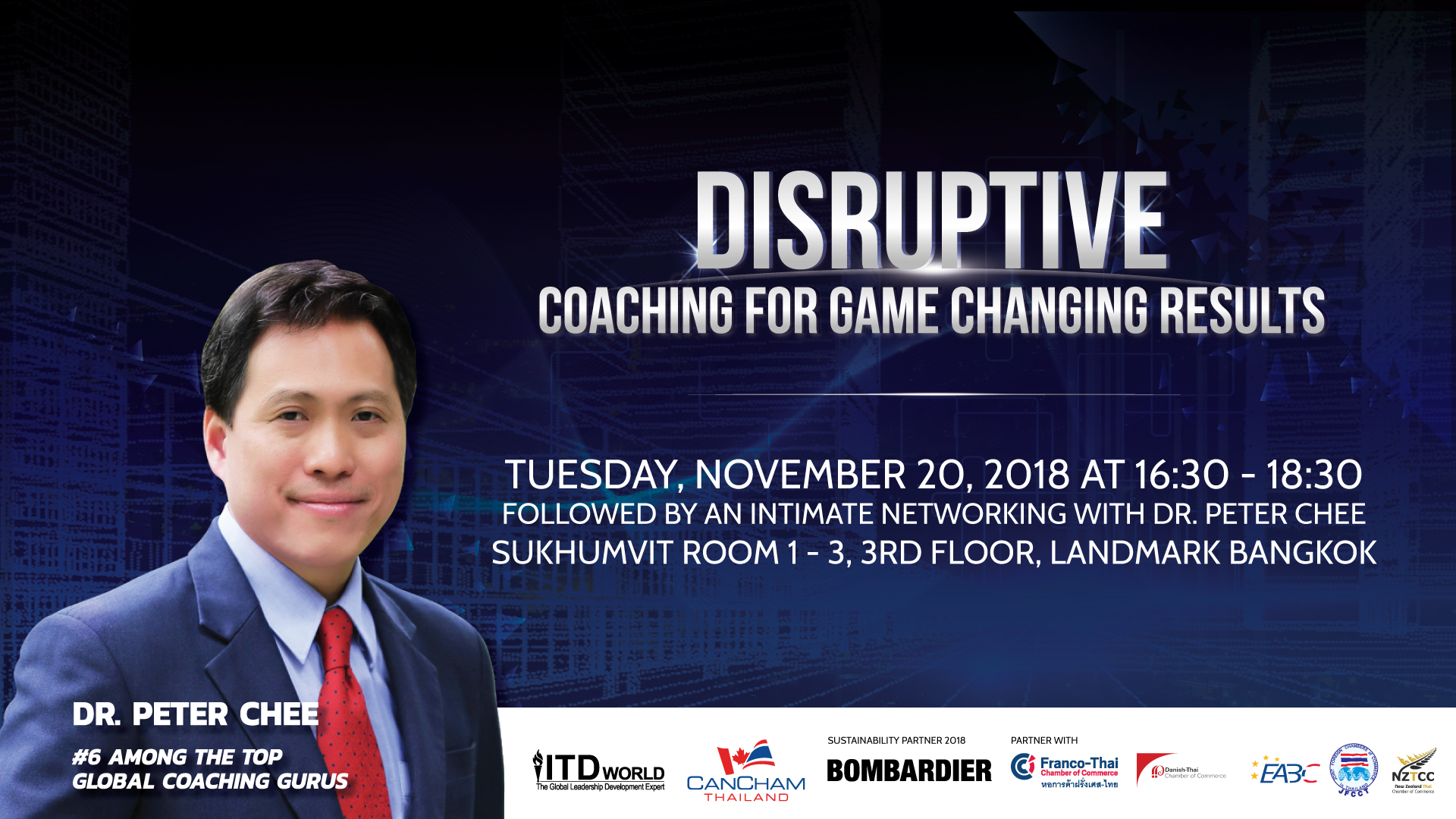 DISRUPTIVE COACHING FOR GAME CHANGING RESULTS
NOVEMBER 20 @ 4:30 PM

 - 

6:30 PM

฿1500 - ฿2000
INTRODUCTION
CanCham Thailand, in collaboration with ITD World, is providing its members the unique opportunity to attend a "Disruptive Coaching for Game Changing Results" seminar with Dr. Peter Chee, top 6 Coach and Leadership Development Guru in the World (mentored by and worked with Marshall Goldsmith, John Maxwell, Tony Robbins, William Rothwell etc). 
This seminar with the inventor of the Coaching for Breakthrough Success Meta Model and published author (co-authored books with Jack Canfield, Brian Tracy, William Rothwell etc.) is scheduled for Tuesday November 20, 2018 – and is an opportunity not to be missed for all CEO's, Managers, Sales & Marketing Executives, Team Leaders, Mentors, Coaches, Innovators and Talent & HR professionals.
EVENT DETAILS
Date: Tuesday, November 20, 2018
Time:
    16:30 – 18:30 Seminar: Disruptive Coaching for Game Changing Result
    18:30 – 21:00 Networking with Dr. Peter Chee
Venue: Sukhumvit 1 – 3, 3rd Floor, The Landmark Bangkok (BTS Nana Station)
Dress Code: Business Attire or Smart Casual
Entry Fee:
THB 1,500 for members
THB 2,000 for non-members
Entrance fee includes food and free flow Canadian beer and wine.
---
SEMINAR TOPIC:
Disruptive Coaching for Game Changing Results 
Leaders are responsible towards their people in responding quickly and effectively to an ever-changing set of challenges in a digital landscape. Disruptive coaching sparks accelerated creativity, innovation and enhances capability for forward-thinking solutions. Such coaching on a strategic scale engages people and develops a high performing organization for rapid growth.
In this session, you will learn:
1. The importance of disruptive coaching on a strategic level for speed and agility
2. Best practices of strategic coaching in a VUCA world
3. Employ disruptive powerful coaching questions to spark creativity and innovative thinking for industry-leading solutions
4. Utilize proven tools and techniques of Agility Coaching and Scenario-Based Coaching for flexible, quick and big wins
5. Best practices and cases in creating a high performance team coaching and mentoring culture 
6. Engage in an open and question and answer session to drive practical action in the workplace
Testimonials about Dr. Peter Chee
 "Meeting Peter has been a chance encounter for which I count my blessings every day. He has shown tremendous availability and support to me and always with a smile. His book Coaching for Breakthrough Success is the perfect guide for becoming a great coach. The coaching sessions we do together have helped me center on my true North and bring positive energy into becoming a better person and pushing my boundaries. And all of this Peter does with a profound sense of giving back and improving the world around him."  
Gregory Enjalbert, Vice-President Asia-Pacific at Bombardier Transportation Rail Control Solutions