New Significantly-Reduced Rates for Official Fees for Corporate Registration
The Ministry of Commerce has issued a ministerial regulation prescribing new rates of official fees for registration of partnerships and private limited companies, taking into account recommendation from the World Bank on the rates of official fees for corporate registration. The new regulation became effective from 21 April 2018 onwards. The key amendments to the official fee rates are as follows:
The rates of official fees for corporate registration are at a flat rate, as opposed to the previous official fee rates, which were calculated based on the registered capital or the number of changes made to the corporate registry.
 
The official fee rates for corporate registration will be reduced by a further 30 percent from the new applicable rates, if the corporate registration is made via the e-Registration system. The reduction of the official fees is applicable from the date that the ministerial regulation became effective until 31 December 2020, or other dates as extended by the law.
 
If the partnership or private limited company has its registered office address in one of the specified provinces in Southern Thailand, e.g. Narathiwat or Pattani, during the time that the corporate registration is being done at the provincial business development office, the official fees will be further reduced by another 50 percent from the new flat rates.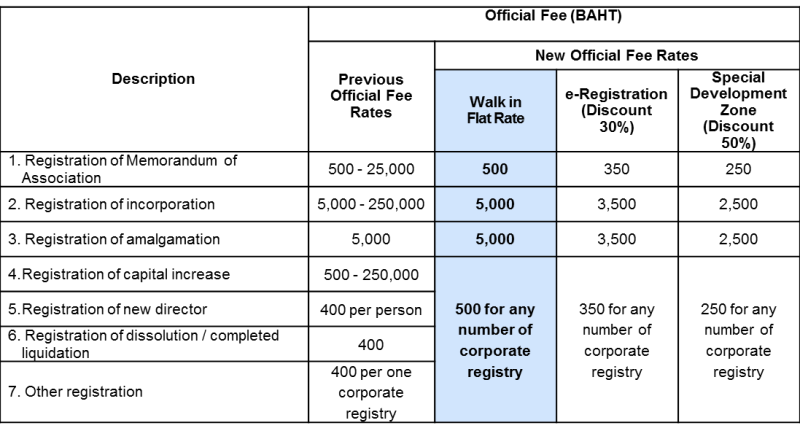 The official fee rates under the new ministerial regulation are summarized in the table below. These new rates do not apply to public companies.
Credit: www.bakermckenzie.com