NZTCC Joint Chambers Luncheon Seminar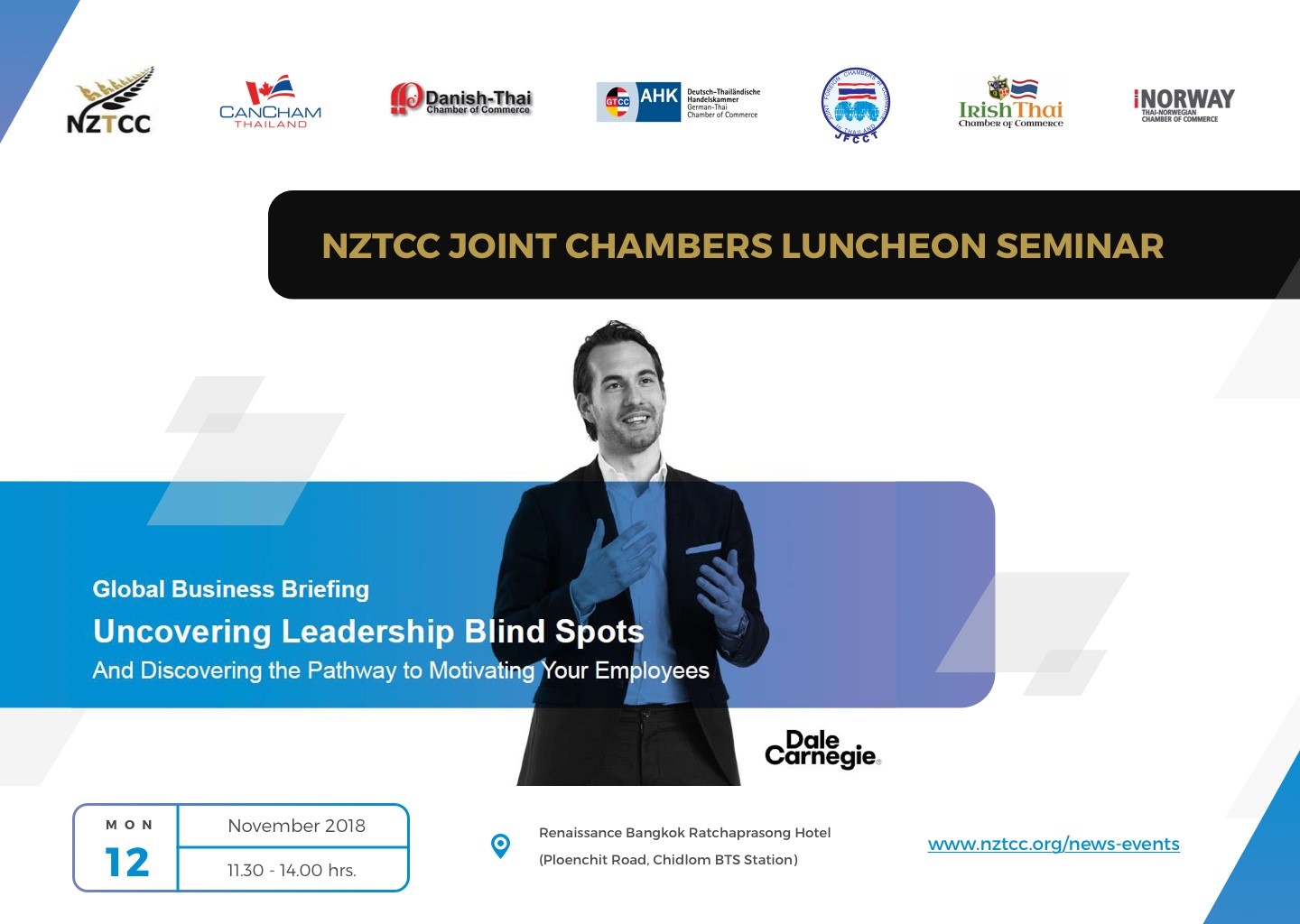 NZTCC, in collaboration with CanCham, Danish-Thai, German-Thai, IrishThai, JFCCT and Thai-Norwegian Chamber of Commerce, is pleased to invite you to join NZTCC Joint Chambers Luncheon Seminar with Dale Carnegie on 
 'Global business briefing: Uncovering Leadership Blind Spots and Discovering the Pathway to Motivating Your Employees'
Leadership matters. Leaders at the senior level strive to create a culture of engagement, while leaders on the front line need to motivate employees daily to drive results. Regardless of level, most leaders "think" they're demonstrating the qualities of an effective leader, but the findings from a new study indicate otherwise. Our research found that:
Only 17% of employees are satisfied in their job.…And 45% of employees are planning on leaving their job in the next 12 months.
Through a recent global employee study, Dale Carnegie identified specific areas where leaders are falling short – we call these "leadership blind spots". Join us for business brief, as we identify the leadership attributes that are critical to organizational performance and find out what your leaders may be missing.
Who Should Attend: 
Senior Leaders, HR and L&D professionals as well as anyone who wants to empower their leaders to build a culture that engages and retains their employees.
Outline:
This Global Business Brief Will Help You
Identify which leadership trends from our research may be impacting your organization
Learn how your leaders can drive employee retention and satisfaction
Uncover common leadership blind spots that may be undermining your corporate culture
Start to identify your organization's leadership performance gaps
Event details:
Venue:  Renaissance Bangkok Ratchaprasong Hotel [map], Ploenchit Road (Chidlom BTS Station).
Date and Time: Monday 12 November 2018, 11.30-14.00 hrs. 
(Registration opens at 11:00 hrs.) 
Admission fee: NZTCC members and Members of participated chambers 1,200 THB,
non-members 1,400 THB, price includes western lunch set. 
About Dale Carnegie
Dale Carnegie was founded in 1912, inspired by one man's belief in the power of self-improvement. Since then, it's evolved into a movement that's crossed borders and generations to tap into the best parts of themselves to create positive transformat