ABSOLUT AMCHAM ESB Networking Night @ Movenpick Pattaya, 6 pm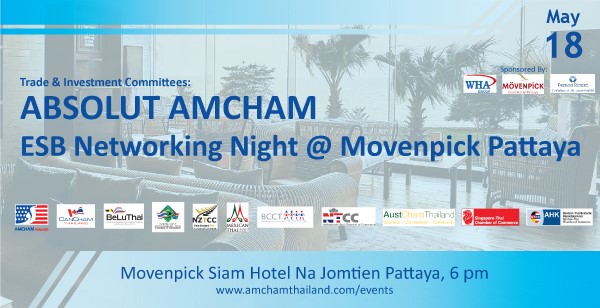 Looking for a great place to network on the Eastern Seaboard in a friendly social environment? 

Then come along to the Eastern Seaboard Multi Chamber Networking event in Pattaya. The event is hosted by the American Chamber of Commerce in Thailand (AMCHAM) in conjunction with the Australian, British, German, Mexican, South African, Singaporean, New Zealand, Dutch chambers of commerce and BeluThai.
Join us for great networking at Movenpick Siam Hotel Na Jomtien Pattaya. Leveraging the Mövenpick brand's culinary reputation, the luxury hotel presents a variety of innovative food and beverage offerings to entice every palate.
Date: Friday, 18 May, 2018
Time: 6.00-9.00 pm
Cost: Participate Chambers member: Baht 500/
Walk-in or non-member Baht 1,000
Please confirm your booking by payment within May 17th at 12 noon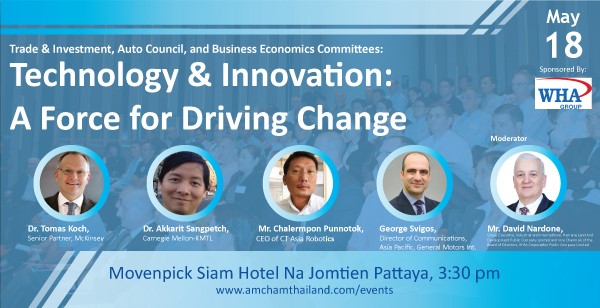 The AMCHAM Trade & Investment, Auto Council, and Business Economics Committees invite members to join their upcoming panel discussion on "Technology and Innovation: A Force for Driving Change."
Date and time: May 18, 3:30 - 6:00 pm 
Venue: Ballroom, Movenpick Siam Hotel Na Jomtien Pattaya 
Cost: Chambers members Baht 250; non-members Baht 500 (includes a coffee break)


Meeting Agenda
3:30 pm     Registration
4:00 pm     Opening remarks by the Co-Chair of the Trade and Investment Committee
4:05 pm     Dr. Tomas Koch, Senior Partner in McKinsey, will share global trends as technology  
                 innovation have take center place as core business needs.
4:25 pm     Dr. Akkarit Sangpetch, Carnegie Mellon-KMTL Program Director, CMKL University, 
                 will present the joint program recently launched by King Mongkut's Institute of   
                 Technology Ladkrabang (KMTL) in collaboration with Carnegie Mellon.
4:45 pm     Mr. Chalermpon Punnotok, CEO of CT Asia Robotics, will share his company's 
                 experiences in developing robots to provide services in areas such as health care.    
5:05 pm     Mr. George Svigos, Director of Communications Asia Pacific, GM International, will share 
                 the future trends in auto being driven by technology and innovation and the direction GM 
                 is working towards at a global level
5:25 pm     Panel Discussion by Moderator: Mr. David Nardone, Group Executive, Industrial and 
                 International, Hemaraj Land And Development Public Company Limited and Vice 
                 Chairman of the Board of Directors, WHA Corporation Public Company Limited
5:45 pm     Q&A
6:00 pm     End of the seminar. Continue to the Joint Chambers Eastern Seaboard Networking
Please confirm your booking by payment within 17 May at 12 noon.