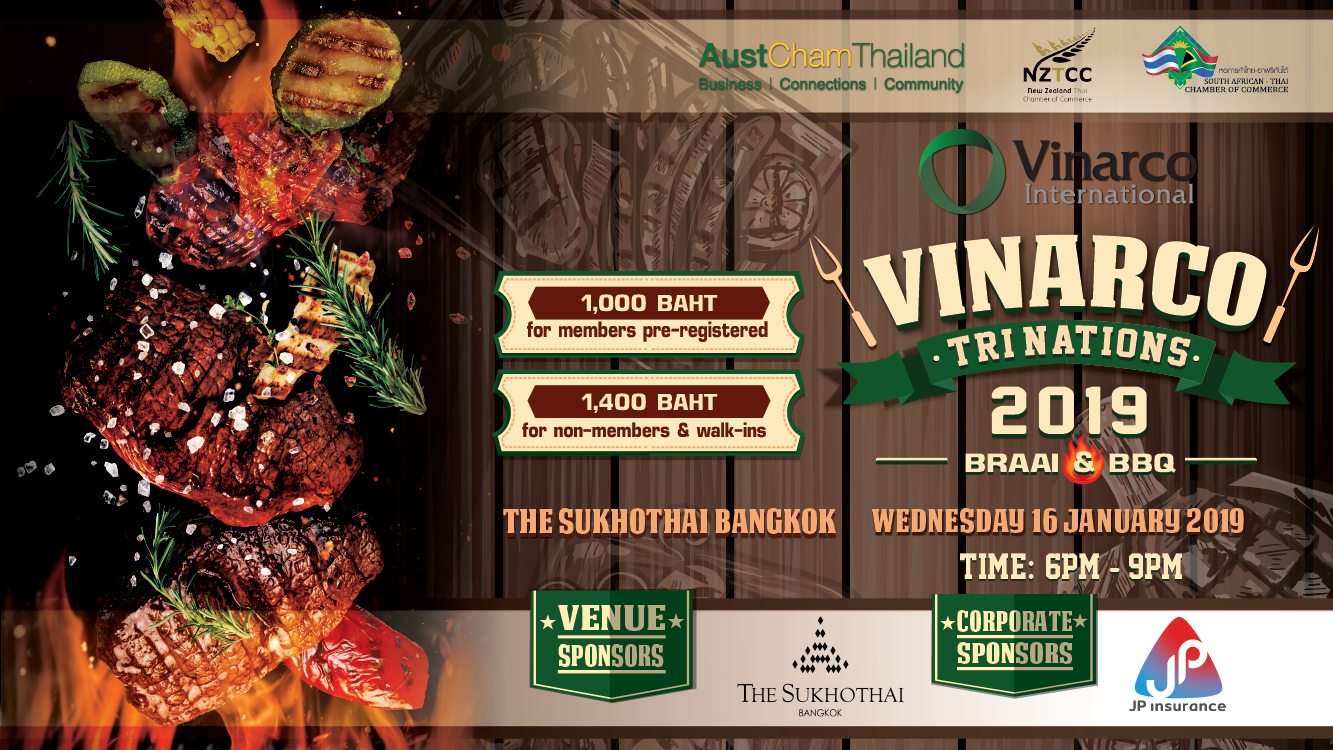 AustCham Thailand, together with the South African-Thai Chamber of Commerce (SATCC) and the New Zealand-Thai Chamber of Commerce (NZTCC), take great pleasure in inviting you to the Vinarco Tri-Nations Annual 'Braai & BBQ' on Wednesday 16 January, 2019 from 6.00 – 9.00pm. 
What better way to start 2019 than with one of the year's most popular Networking events in the gardens of the majestic Sukhothai Hotel, while indulging in the best of Australian, South African and New Zealand food and beverages.
Event Details: 
Date: Wednesday 16 January 2019
Time: 6.00 - 9.00 pm
Cost: Baht 1,000 for members pre-registered
          Baht 1,400 for non-members and walk-ins on the day
Location:The Sukhothai Bangkok (map)
**Please note that bookings are strongly preferred so we can ensure appropriate catering. Walk-ins may not be able to be accommodated and will be charged the non-member price.**
Payment and Cancellation policy: 
1. Payment MUST be made in advance to confirm your reservation
2. Cancellations must be made at least 48 hours (2 days) before the event via email to director(at)nztcc.org
Note that cancellations received less than 48 hours (2 days) are not able to receive a refund and are not eligible for transfer or exchange, and bookings made but not paid will be charged with a no-show invoice unconditionally.
For Marketing Opportunities as Corporate Sponsor, please email to