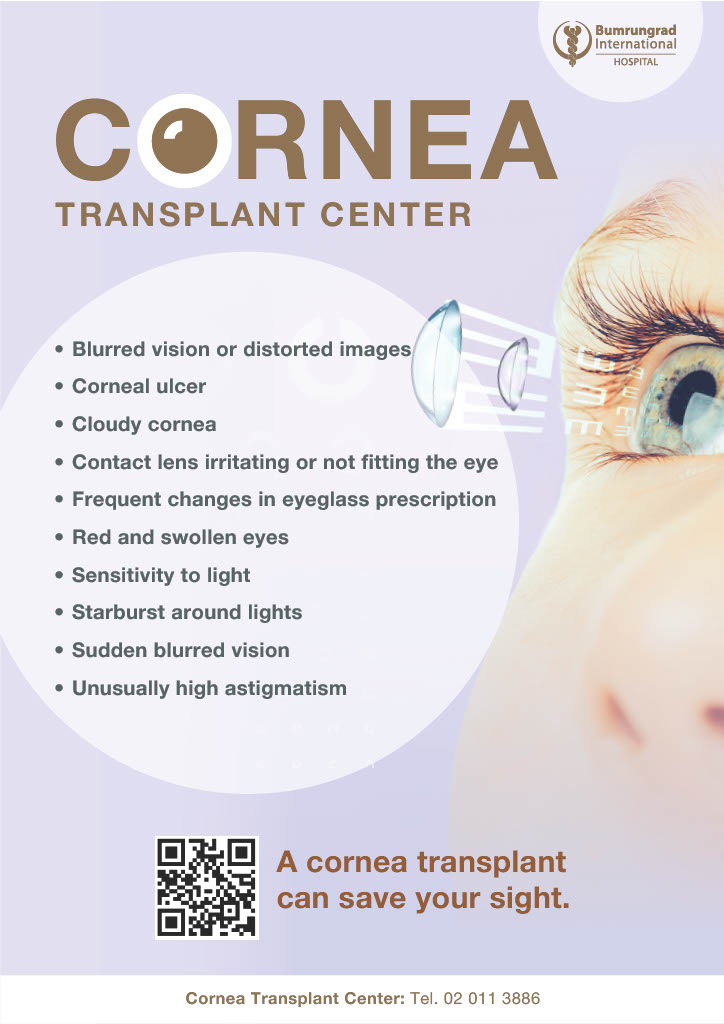 Corneal Transplant Center
May 28, 2023
According to a 2014 survey of visual impairment and blindness:
- 0.6% of Thai people are blind
- 2.6% are visually-impaired
*Over 92% of blindness cases could have been prevented.
*More than 76.8% could have been treated.
HOW TO DETECT A CORNEAL PROBLEM?
· Blurred or warped vision
· Cloudy cornea
· Contact lens irritating and not fitting the eyes
· Corneal ulcer
· Frequent changes in eyeglass prescriptions
· Red and swollen eyes
· Sensitivity to light
· Starbursts around lights
· Sudden poor vision
· Unusually high astigmatism
WHAT TO DO IF YOU EXPERIENCE SYMPTOMS?
See an eye doctor before the symptoms become so severe, leading to blindness. Corneal transplant is a treatment method used to restore vision to those with a cornea condition or a damaged cornea.
Bumrungrad's Corneal Transplant Center:
- Comprehensive range of treatment and care services for corneal diseases especially complex ones.
- Team of experienced ophthalmologists with advanced expertise.
- Modern medical technology and equipment.
Corneal Transplant Center: 02 011 3886