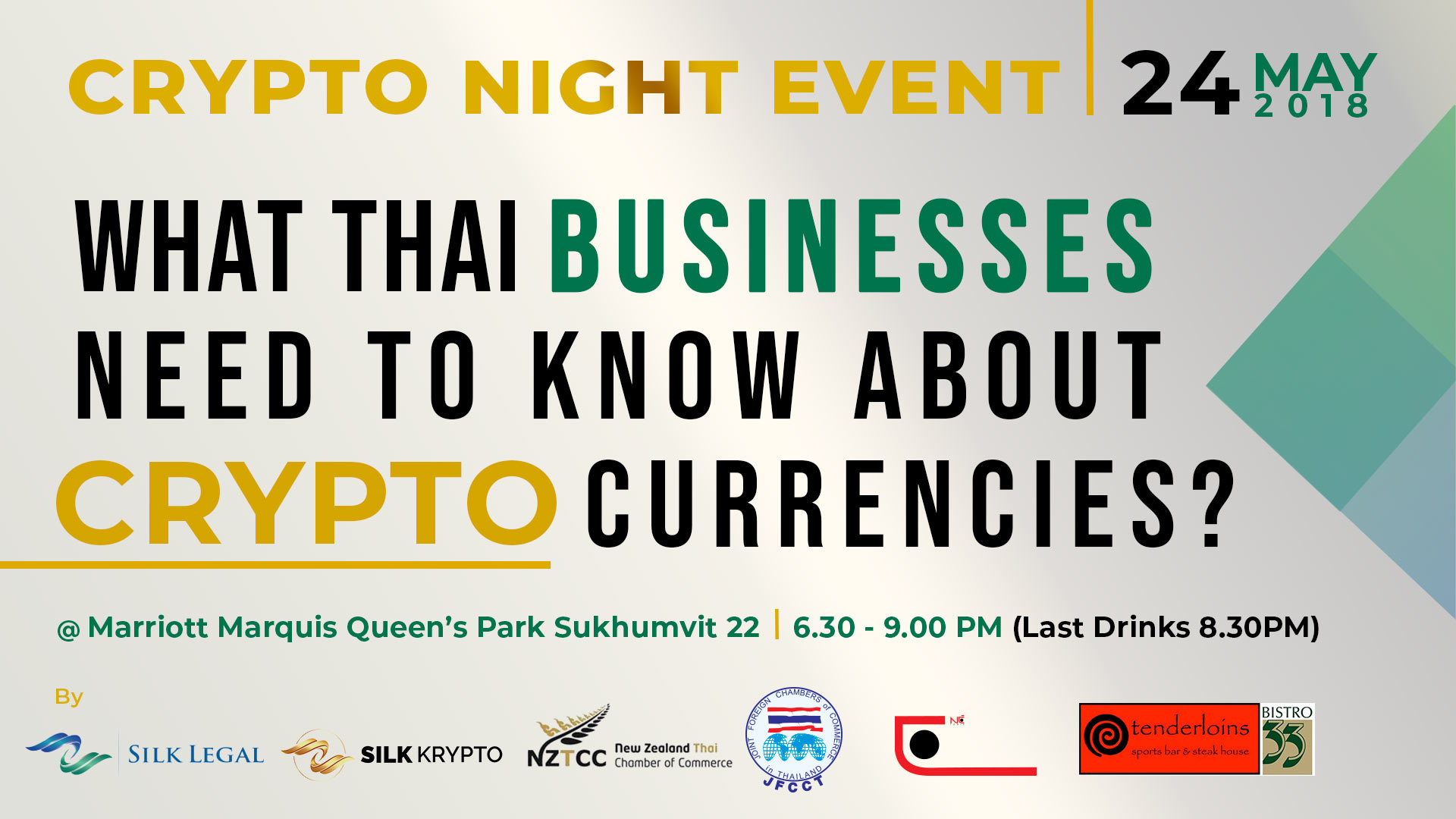 Crypto Night
Providing information to Thai Business Owners about what they need to know regarding cryptocurrencies.
Venue: Marriott Marquis Bangkok Queen's Park, Sukhumvit 22
Date: Thursday 24 May 2018
Time: 6.30-09.00 p.m. (Last drink at 8.30 p.m.)
Interest in Blockchain technology has gained considerable momentum among users and businesses, having the potential to bring significant changes to Thai society and beyond. Dr. Jason Corbett will be discussing compliance concerning cryptocurrencies, covering points of interest including:
- Cryptocurrencies and their impact on businesses.
- Regulatory outlooks and what to expect from Thai regulators.
- Accounting practices surrounding cryptocurrencies and their tax implications.
Dr. Jason will also examine trends in the crypto market and their effect on businesses, as well as ICO fundraisers.
 

About guest speaker

Dr. Jason Corbett is the founder and Managing Partner of Silk Legal, a Bangkok-based law firm that advises both foreign and domestic clients.
As a corporate lawyer by trade, and an entrepreneur at heart, Dr. Jason has trained in the law with a variety of in-house positions and private practice including one of Canada's largest law firms. He has likewise been involved in several business and start-ups on an executive level in a variety of industries ranging from legal, finance, beverage manufacturing, hospitality, environmental, e-commerce and professional consulting

Dr. Jason's current focus is heavily on start-up law, crowd funding, commercial law, and company formations. He is deeply involved with several ICO projects as legal counsel and advisor, and one of the very few global experts in the space.

Ticket:  1,200 baht for member and
             1,500 baht for non-member
included free-flow canapés, drinks and  VAT 7%
 
To reserve your seat, please register below or if you have any question, please email to 


For Marketing opportunities, please email to