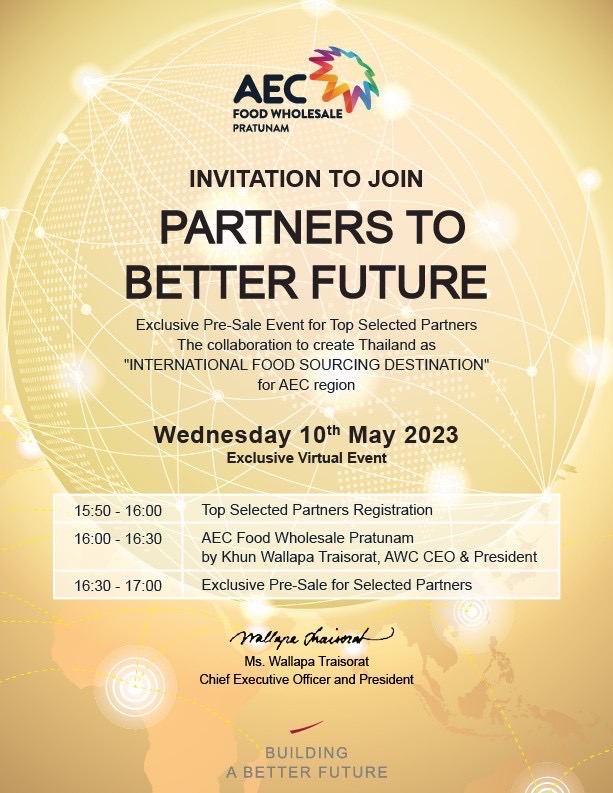 Partners To Better Future
May 8, 2023
You're invited to "Partners To Better Future" exclusive virtual event for "AEC Food Wholesale Pratunam", international food sourcing destination for AEC region, organized by Asset World Corp Public Company Limited (AWC) on May 10th, 2023, at 16:00-17:00 (GMT+7).
​​
As Thailand's leading integrated lifestyle real estate company and a member of TCC Group, one of the biggest business conglomerates in Thailand, AWC recently launched AEC Food Wholesale Pratunam. The new international food sourcing destination, located in the heart of Bangkok, aims to be the largest B2B international food sourcing destination in the region, offering a one-stop solution for businesses looking to expand their reach across Southeast Asia. The project is built around an innovative O2O business model, consisting of three core components:
• INTEGRATED BUSINESS WHOLESALE PLATFORM of physical and online to deliver seamless omni-experience.
• FULL ASSORTMENT of products and services for the comprehensive needs of businesses, provided by trusted partners.
• A dynamic model to ensure NON-STOP OPPORTUNITIES and strengthen the wholesale ecosystem for all stakeholders.
During this event, Khun Wallapa Traisorat, CEO & President of AWC, will share AWC's strategy and preparation for the project. Those who have keen interest in international business expansion will find great value in learning about the center and exploring potential opportunities to collaborate with AWC. Additionally, the participants will have the opportunity to receive special privileges, including early access to reserve a space in the Exclusive Pre-Sale Event for Top Selected Partners, which will be held from May 10th-18th, 2023, prior to the project's regular sale period.

Register now: https://forms.office.com/r/bN6xANE8V5